Finnish Vacation Tales, written by Amigoh.
This year we went for a vacation in beautiful Finland.
First we took a ferry From Rostock to Helsinki.
We entered our cabin and the fun started!

We could sleep in bed, we could look throuw the window and see a lot of water,
and other ships passing by.... I thought it was just fascinating! Wow.....


Our dad Peter took the upper bed, and we shared the bed with mom Tamara...


When we arrived at our cottage, we just couldn't believe our eyes...
Forest everywhere, and a private lake!
Did you meet a lot of dogs which would have a private lake?
We didn't! Just great!


We had our private bedroom... So we had a great sleep,


and then our perfect days started:

First thing in the morning, before the breakfast we went for a small swim: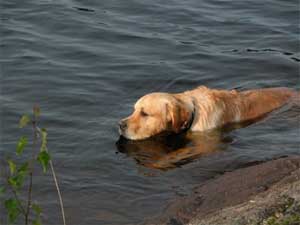 Then we went to have our breakfast.
Let's just see if it is ready yet?


then we took a sunbath:


and after that it's playing time:


Hey,wait for me,did I miss something already?


of course we play also while swimming...


Afterwards we gave lessons of retrieving and swimming to our mom & dad.
They did not bad, but still need some training:
You see, my mom lost the dummy already...


Hey, dad, I can't follow, wait for me!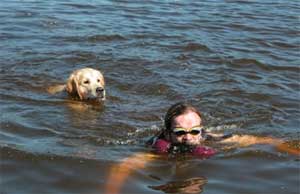 It seems like Dad is a lousy retriever, well,then I have to do it myself!
Lazy people, they don't have so much "will to please" as they expect us to have!


Then I decided to go for a diving session...


No-No, I am not tired yet, just give me a few minutes...


Well, what should we do next?


We decided to go somewhere by boat:
I am waiting at a pier for the arrival, but the boats are not so punctional anymore:


Ah,finally,here is my boat coming


And here we go, I am the captain!


And what's that?
Oh, Gryff missed the boat (I must mention, by the way,that Gryff is even less punctional then the boats!)


well, then we'll return for him, but we are far already....


Gryff got safely in and here we go again:


After the boat trip it is time for my daily cigar:


And then I must check if everything is going right at my lake and in my forrest:
Maybe you didn't know, but the birds also should be trained sometimes!


At some days we went fishing and picking mushrooms.You see how many we got?
One day we caught a big fish! It was so big that we couldn't hold it in our paws,
so we had to ask Dad to hold it for the photo...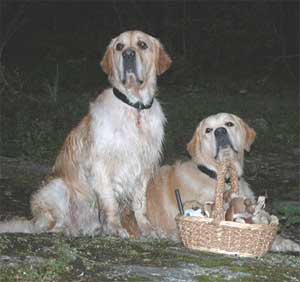 Because we cought the fish ourselves, we made also a soup for us from it!
I must tell you, the soup is just fantastic! A million times better then that dry dinner we get everyday!
Of course it took Dad a long time to prepare it, but we can wait! But not too long, please!


Another day we made barbecue...
That was another great moment! Much better then dry food as well!
But requries much patiance waiting....
First you wait for the meat to get ready,


Then you wait for Dad to understand, that he should share...


Now it is enough waiting, I am just taking it!


One day our Mom decided we should go to the show.
What an idea! Who works on holidays?
But as a proper retriever should be, we have a "will to please", so we must go....
Our mom trimmed us & washed us all beautiful (to her taste anyway)


But after we looked at the mirror,we didn't agree with mom's idea of beautiful,
so we did it our way... Looks much better, isn't it?
Gryff tried the new hair colouring for Golden: very fashionable style,called "sablé".


I thought it looked great so I did the same!


And this is the result! Ready to go BIS, aren't we?


Unfortunately mom didn't like our new show outfit and did it her way again anyway....


And then there is playtime again! Which game should we play?
Oh, I know, we will play pigs!
Great game, but unfortunately,Gryff won!


Ok, then some swimming again!


By the way, how many paws and heads Golden should have by a standard?


Forrest walk!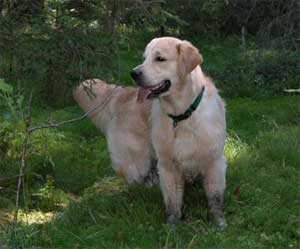 And then the evening is coming....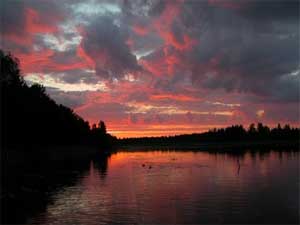 After looking to such a beautiful sunset, I got all romantic,
and a bit sad not having a girlfriend with me,


so I just decided to go give a big kiss to my mom Tamara.


Then we had a small "men's chat" with a glass of wine
(I must tell you the wine tastes perfect on the fresh air) and I proposed to play scrabble..
I won, of course!!!!


3 weeks passed by like a one day, and we got very sad , when we had to go back home,


but after having a chat,
we decided that we are happy dogs, we have each other and our Mom & Dad which we love very much,
and by which we are loved to bits,


so we went home with a smile, and we will be back next year!!!


Hope you enjoyed my stories,
With Love, Amigoh & Gryff.


Top